Payment processing and point-of-sale systems can be complex and frustrating at times. The Toronto Star article titled "All Stick, No Carrot: Store Owner Balks at Sales Terminal Company's Fee for a Service He Doesn't Need" discusses the frustration of a store owner who is being charged for a service he does not require. 
The owner of the small business expresses dissatisfaction with Lightspeed Commerce, a point-of-sale payments company, that is imposing fees for a service that is irrelevant to his store's operations. Despite the owner's attempts to negotiate and find a resolution, the company refuses to accommodate his request, causing financial strain and dissatisfaction for the store owner.
What is Lightspeed doing wrong?
In the world of retail and e-commerce, a seamless payment processing system is crucial for business success. Lightspeed Commerce, a popular sales terminal company, has been receiving criticism from customers for its poor service and unnecessary fees. 
Lightspeed Commerce has even received a "D" rating from the Better Business Bureau due to numerous complaints with a 1-star rating out of 5.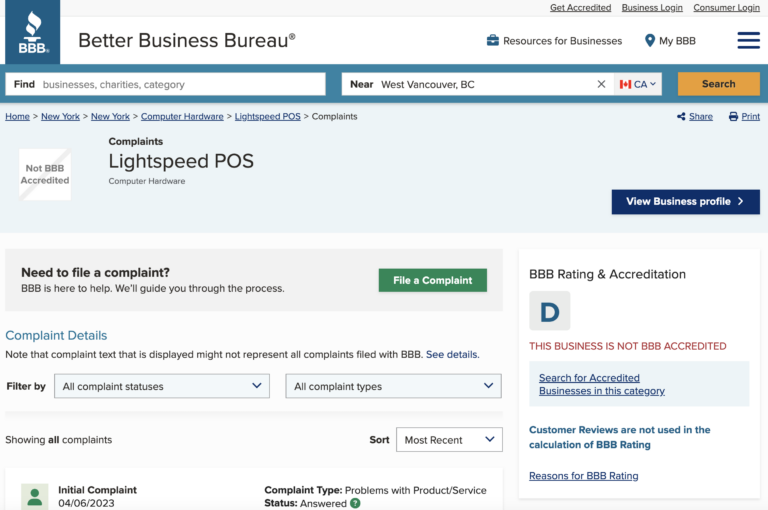 Below are some of the shortcomings of Lightspeed Commerce. Later in the article, we also explore a viable alternative, TRC-Parus, which offers a similar payment processing solution and point-of-sale for businesses with lower fees.
Excessive and Irrelevant Fees: Lightspeed Commerce has been frustrating customers with its imposition of fees for services they don't need. This all-stick-no-carrot approach has left store owners feeling burdened and dissatisfied. TRC-Parus, on the other hand, prides itself on transparent pricing and customizable plans, ensuring that customers only pay for the services that are essential to their business operations.
Inflexible Customer Support: Lightspeed Commerce's customer support has been a point of contention for many users. Frustrated customers often face long wait times, unhelpful responses, and a lack of willingness to accommodate their needs. TRC-Parus, in contrast, places a strong emphasis on exceptional customer service, offering dedicated support that is responsive, knowledgeable, and readily available to assist with any issues or inquiries.
Lack of Customization: One size does not fit all when it comes to payment processing. Lightspeed Commerce has been criticized for its lack of flexibility and customization options, forcing customers into packages and features that may not align with their specific needs. TRC-Parus understands the diverse requirements of businesses and offers customizable solutions that can be tailored to fit individual preferences, ensuring an optimized and personalized payment processing experience.
Making the switch from Lightspeed Commerce to TRC-Parus is a promising move for businesses seeking a better payment processing solution with world-class customer support. 
A key difference of TRC-Parus is that its mission is to drive down the cost for merchants to accept payments. This is one reason so many merchants are moving to TRC-Parus. There are two primary point-of-sale solutions that TRC-Parus offers. The Clover and the Talech point-of-sale solutions which are discussed below.
The Talech point-of-sale (POS) along with payment processing is built for retail, restaurants, or services businesses. Easy to learn and mobile ready with a great consumer experience.
Clover is a complete point-of-sale system to take payments, track sales, manage employees, and run your business. Built for table and quick-serve restaurants, retail, or service businesses.
By transitioning to TRC-Parus, customers will benefit from transparent and affordable pricing plans, outstanding customer support with quick response times, extensive integration options for seamless business operations, and customizable solutions tailored to specific business requirements. TRC-Parus is happy to help you with the process to switch to make it seamless.
Seamless switch to TRC-Parus to get the best point-of-sale with world-class support
Lowest-cost processing in the industry
Fund transfers in less than one day
A full set of payment products to accept payment anytime, anywhere
World-class customer service