Payment processing companies provide the full service to allow merchants to accept credit cards or debit cards. Some of the more advanced payment processing companies allow processing with multiple currencies, cryptocurrencies, PayPal, and other progressive payment methods.
Payment processing companies in the value chain
There are many names that payment processors are sometimes called generically such as acquirers, aggregators, merchant service providers, processors, payment providers, and several others. Although it's a simplified version, the key players in the value chain are shown in the image below.
Payment processors are generally thought of as the service provider, depicted next to the merchant below. Payment processors are the ones that work directly with the merchant to set up their payment processing account. The service provides provides the sales and support of all software and hardware needed for payment processing.
Technically, the acquirer takes on the risk for a merchant account, but the service provider is the one who interacts with the merchant. It is possible that the acquirer is both the service provider and the acquirer. In this case, the merchant interacts with the acquirer. The level of service should not be impacted if the service provider and acquirer are combined.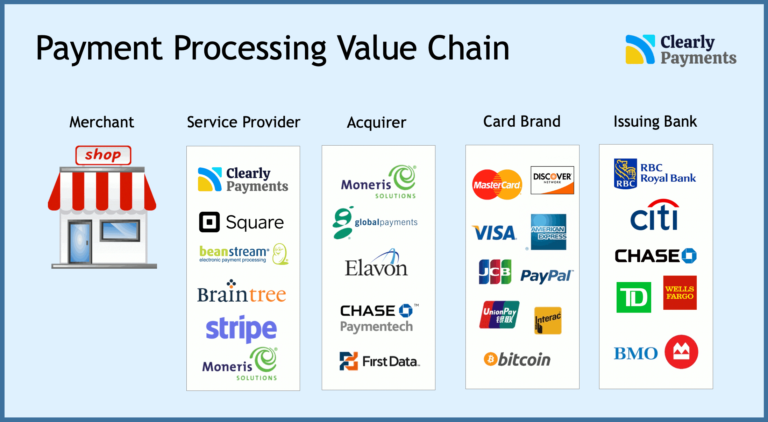 Acquirers take risk in credit card processing. When we refer to "risk" in payment processing, it means the risk that a credit card payment has been made, but the merchant is unable to deliver the product or service. When this occurs, the consumer will get their money back from the processor. If the merchant is unable to then pay the payment processor back, possibly because they went out of business, the acquirer has to pay the funds. That is the risk.
Choosing the best payment processing company
There is an incredible variety of payment processors. If you're looking for a payment processor, there is no shortage of options. The amount that people spend using credit cards in North America is over $3 trillion. Payment processing is a huge industry so there are many players.
To keep things simple, there are two main buckets of payment processors. You can go with an aggregator or you can go with a merchant account provider. Based on the characteristics below, you can choose the best option for you.
Simple to sign up for and it only takes minutes.
You are automatically combined with many other businesses to share a merchant account.
There is generally a higher likelihood of your funds being held.
You will generally get less personalized and lower amounts of customer support.
Fees are overall cheaper when processing few transactions that are a large size.
Generally best for small businesses doing less than $100,000 per year.
Merchant Account Providers
Takes a day or so to get approved and set up to go.
There are lower fees relative to aggregators the higher the amount you process.
You will likely get higher levels of personalized and accessible customer support.
You will get more options and flexibility in the choice of payment software and hardware.
Generally best for businesses selling $100,000 per year or more and medium to large businesses.
Overall, choosing the best payment processor depends on your monthly processing amount and depends on your priorities for customer support and software/hardware needs. When you are signing up, make sure you look into the overall effective rate you will pay and ensure you are not locked into a term.
We're happy to give you more insight into payment processing companies.